440 Hours of Training
Breath, Mind and Body Mastery
Live and interactive
Free your Breath
Learn the technique: physical resistance, breathing deviations, emotional resistance, energy release and the breathing cycle.
Free Your Mind
Understand how thought is creative. The Personal Law. Spiritual Psychology
Love your Body
Spiritual purification with the elements: air, water, earth and fire.
Freedom - Comes From Within
This training totals 440 hours and consists of 9 x 2 day Modules + 4 Spiritual Purification Days (22 days) of training plus such a lot more.
Taking you deep into your psyche, shining a light on your subliminal patterns through the breath and providing you with tools to heal deeply, empowering you to create a new reality for yourself.
We believe in providing individual high quality breathwork sessions. This is how real change happens.
Breaking free from the limitation of our mind happens for all participants you can take this programme for personal development or becoming Qualified Breathwork Facilitators.
Share love, have fun, live your truth and discover your real self.
Now more than ever it's important to change our reality.
We'll be holding live online seminars which all trainees attend
Trainings are interactive with processes because your transformation is key to helping others transform.
If you choose the certification route you'll be placed in a trainee group for group work and mentoring.
Even though the training is online we ensure that personal connection is maintained
We believe in providing individual high quality breathwork sessions. This is how real change happens.
Gain the skills to become a highly proficient and professional Rebirthing Breathworker
No previous experience required!
DELVE DEEPER IN THIS BREATHWORK TRAINING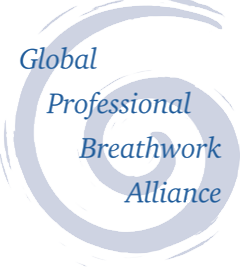 This training is accredited by the
GPBA:
The Global Professional Breathwork Alliance (GPBA) is a consortium of professional breathwork schools, trainers, and practitioners who support and promote the integration of breathwork in the world as an accessible and vital healing modality that facilitates physical, emotional, intellectual and spiritual wellness. The GPBA is open to all breathwork practitioners and schools agreeing to uphold the principles of ethics and standards set forward by the Alliance. www.breathworkalliance.com
This training sets you up with the skills to competently practice as a Rebirthing Breathworker.
Gaining experience in facilitating sessions teaches you how to deal with different clients.
After you have completed the training you can then complete the certification requirements.
Level 1
9 Modules
Professional Rebirthing Breathworker
Training Platform: Mighty Networks
Download Mighty Networks App
Join Conscious Hub on Mighty Networks
Trainings
Why would I choose to do the BreathTalks training program?
Ciara was trained by Leonard Orr the discoverer of conscious connected breathing as well as his first student Sondra Ray.
The information on Birth, conscious parenting, family relationship dynamics, spiritual purification, life longevity is no longer taught by many Breathwork schools.
This is information is essential to digging deeper into your unconscious to finding the blocks in your life, or simply accepting yourself as you are. The only requirement is your desire to work on a deeper level to make changes.
First and foremost, you work on your own issues during the training. The training has been created to provide you with the information and guidance for you to confidently and proficiently facilitate Rebirthing sessions.
The training covers session technique, how to coach and process clients, the importance of forgiveness, using intuition, client needs assessment, how to set up a practice, experiencing purification with the elements.
Coaching and processing includes:
Personal Law process and Purification with the Elements

Birth Script

Parental Patterns

Unmet Childhood needs:
Infant

Toddler

Pre-school

School-age

Adolescence

Forgiveness

Shadow work
No Previous Experience Required
You really don't need any previous experience in another modality or therapy – just passion to help facilitate other people transform.
As you learn how to heal and help others over the duration of the virtual training, you will inevitably grow and change yourself. Past graduates have reported that  they made profound realisations, personal transformations, a shift in perspective about their life situations and feeling positive about their life by participating in the training. The training is full of practical and extensive professional knowledge.
The training comprises of:
Online live lectures
Daily practices
Purification with elements days
Course Handbook
Group mentoring
Extensive resources for your reading time
Peer support group
Professional mentors who facilitate your sessions
Receive and facilitate Breathwork sessions
Receive and facilitate Processing sessions
Accountability partner
Gain experience in delivering a seminar
Ongoing monthly Rebirthing Collective meetings after the training has finished
I've recently trained as a Breathworker why would I do another course?
If your Breathwork course didn't cover an in-depth training on:
Session facilitation: breathing deviations, physical and emotional resistance, the energy cycle, first breath.
Birth Scripts and how birth impacts your life
Advanced inner child work, through the various stages of childhood development
Mind mastery: spiritual psychology and the Personal Law process
Body mastery: the importance of doing purification with with elements
Taking responsibility for your life and projections
Family dynamics
Taking responsibility for increasing your longevity and life urge
Completing a client needs assessment and a progress plan for your client
Then this course will help you go deeper both for yourself and for your clients.
Because you will gain a greater understanding about resolving big blocks you continually face and working with your unconscious mind.
I have completed the Fundamentals of Rebirthing Breathwork Training:
You start from Module 5:
You have already completed Modules 1-4 and do not need to repeat them.
In-person in Glastonbury or Hybrid
Hybrid - lectures are online and live and have sessions with a Rebirther near you
*Modules 1-4 are the Fundamentals of Rebirthing Breathwork. If you have completed Modules 1-4 already, then you start at Module 5
| | | |
| --- | --- | --- |
| Module | Europe US | Australia |
| 1.1 |  10 September |   |
| 1.2 |  24 September |   |
| 2.1 |  8 October |   |
| 3.1 | 22 October |   |
| 3.2 |  5 November |   |
| 4.1 |  19 November |   |
| 4.2 |  3 December |   |
| 4.3 |  10 December |   |
| 5.1 |  17 December | |
| 5.2 |  7 January | |
| 6.1 |  21 January | |
| 6.2 |  4 February | |
| 7.1 |  18 February | |
| 7.2 |  3 March | |
| 8.1 |  17 March | |
| 8.2 |  31 March | |
| 9.1 |  14 April | |
| 9.2 |  28 April | |
| May | Metaphysical Breath Community | |
| | | | | |
| --- | --- | --- | --- | --- |
| Europe & US | PT | ET | GMT | EET |
| Daily Practices | | | 8.30am | 10.30am |
| Break | | | 10am | Noon |
| Sessions | | | 10.30am | 12.30pm |
| Lecture | 7am | 10am | 2pm | 5pm |
| Break | 10am | 1pm | 5pm | 7pm |
| Daily Practices | 10.30am | 1.30pm | | |
| Break | 12.30pm | 3.30pm | | |
| Sessions | 1-4pm | 4-7pm | | |
| | | |
| --- | --- | --- |
| Australia | WA | AET |
| Sessions TBA |  Weekdays |  Weekdays  |
| Lecture |  1.00 pm |  3.00 pm |
| Break |  4.00 pm |  6.00 pm |
| Daily Practices |  4.15 pm |  6.15 pm |
| Finish |  6.00 pm |  8.00 pm |
Day 1
The Mind

Freedom & Choosing Life

The Owners Manual

Spiritual Purification
Day 3
Personal Law

Thought is Creative

Spiritual Psychology
Day 5
Conscious Birth

Birth Trauma

Your Birth Script
Day 8
Inner Toddler

Inner Pre-schooler
Day 2
Resistances

Breathing Deviations.

Breathing releases

The Energy Cycle
Day 4
Family Planning

Conception

Gestation
Day 7
Parental Disapproval

Stages of Development

Inner Infant – Symbiotic Bonding
Day 9
Inner School Age Child

Adolescence
Day 10
Inner Child Reparenting & Forgiveness

Becoming a Healthy Adult

Forgiveness Letters
Day 12
Past Lives

The Life Urge, Death Urge & Physical Immortality
Day 14
Prosperity Consciousness & Self Worth

The Money Game
Day 16
All you need is love..

Love Saturation Exercise

Find out what your peers think of you

🥰
Day 18
Advanced Techniques

Advanced Purification

Ethics, Safe Space & Trauma
Day 20
Student Presentations

Certification
Day 11
Radical Forgiveness

Letting Go

Inner Child Party
Day 13
Taking Responsibility for Your Projections

Processing Clients
Day 15
Becoming an Accomplished Rebirther

Spiritual Community
Day 18
Marketing Rebirthing

Successful Rebirthing Business

Professional Practice

Organisational & Professional Skills
Day 19
Intuition

Advanced Chakra Teachings
Spiritual Purification & Mini Vision Quest
Day 1 and Day 2: Fire, Silence, Fasting and Practice with the Elements – 24 hours
2 Consecutive Days: Fire, Silence, Fasting, Creativity and Practice with the Elements – 48 hours
*In-person with a course Mentor: additional cost for location and accommodation.
Continuation
Rebirthing collective
To complete the 2 year programme, once you have completed all of the Modules you can join the Rebirthing Collective.
Step 1: Days 1-8. If you are already a Breathworker or you don't want to become certified.
Step 1: Days 9-20 and spiritual purification days – the full professional training.
Step 2: Once you have completed the training and wish become certified join the monthly Rebirthing Collective meetings.
Initiate Mentor & Trainer
Step 3: Join the next Fundamentals training and become an initiate Mentor & Trainer.
Your information will be deleted after the Prospectus has been sent to you. You will not be added to a mailing list.
What People are Saying
About Trainings
Alena Sidlova speaks about being an Assistant on the Professional Rebirthing Breathworker Practitioner Training. Assistants must continue to work on themselves.
Sara Redman an assistant talks about the training.
Catalina Montes talks about the training as a student.
Yentl Bruyninckx talks about his experiences during the training.