Fundamentals of Rebirthing Breathwork
78 Hours of Training
Breath, Mind and Body Mastery. Live and interactive
Free your Breath
Learn the technique: physical resistance, breathing deviations, emotional resistance, energy release and the breathing cycle.
Free Your Mind
Understand how thought is creative. The Personal Law. Spiritual Psychology
Understand Birth
How your birth impacts your life
Freedom - Comes From Within
* Breathworkers now that you've done a Breathwork training, would you like to dive deeper into facilitating sessions for your clients?
* If you are new to Breathwork, Modules 1-4 will count towards the first 8 days of the 21 day Rebirthing Breathwork Training.
Professional 21 Day Rebirthing Breathwork Training
Module 1 – 2 Days: Rebirthing Technique – 6 hours live lectures, receive 2 sessions, observe 2 sessions, 1 hour live group mentoring.
Learn how the Rebirthing Technique is different: nose or mouth breathing. The Energy Cycle. Physical Resistance. Emotional Resistance. Breathing Deviations. Breathing Mechanism Release. Energy Release. First Breath.
Module 2 – 2 Days: Conception, Pregnancy & Birth – 6 hours live lectures, receive 2 sessions, facilitate 2 sessions, 1 hour live group mentoring.
Understand how our first 1001 days are critically important to how our life is set up: conception, pregnancy, birth and infancy.
Learn the Birth Types and how to work with each type. Find out why you have certain behaviours.
Module 3 – 1 Day: Mind Mastery – Spiritual Psychology and the Personal Law. Get out of your mind and into creative thinking.
Module 4 – 3 Days: Stages of Development: Inner Child work – 9 hours live lectures, receive 3 sessions, facilitate 3 sessions, 1 hour live group mentoring. Understand how parental disapproval and sibling rivalry operate. Experience each stage through meditations, taking responsibility for your inner child and then breathing on what comes up for you.
Birth Professionals: if you are not a Breathworker then you will receive sessions and observe one-on-one Rebirthing sessions.
High Quality Rebirthing Sessions: for each day of training you take you will receive a one-on-one session with a Mentor. You will teamed up with another participant and also observe one session. If you take the 8 day training then you will receive 8 sessions and observe 8 sessions. Sessions can be scheduled outside of the weekend only in agreement with your Mentor and buddy.
Each Day of Training Includes:
3 hours of lectures
2 hours of daily practices
Receive and observe a Rebirthing session
30 minutes of processing time
1 hour of group mentoring
You need to do a minimum of 1 hour of reading per day of training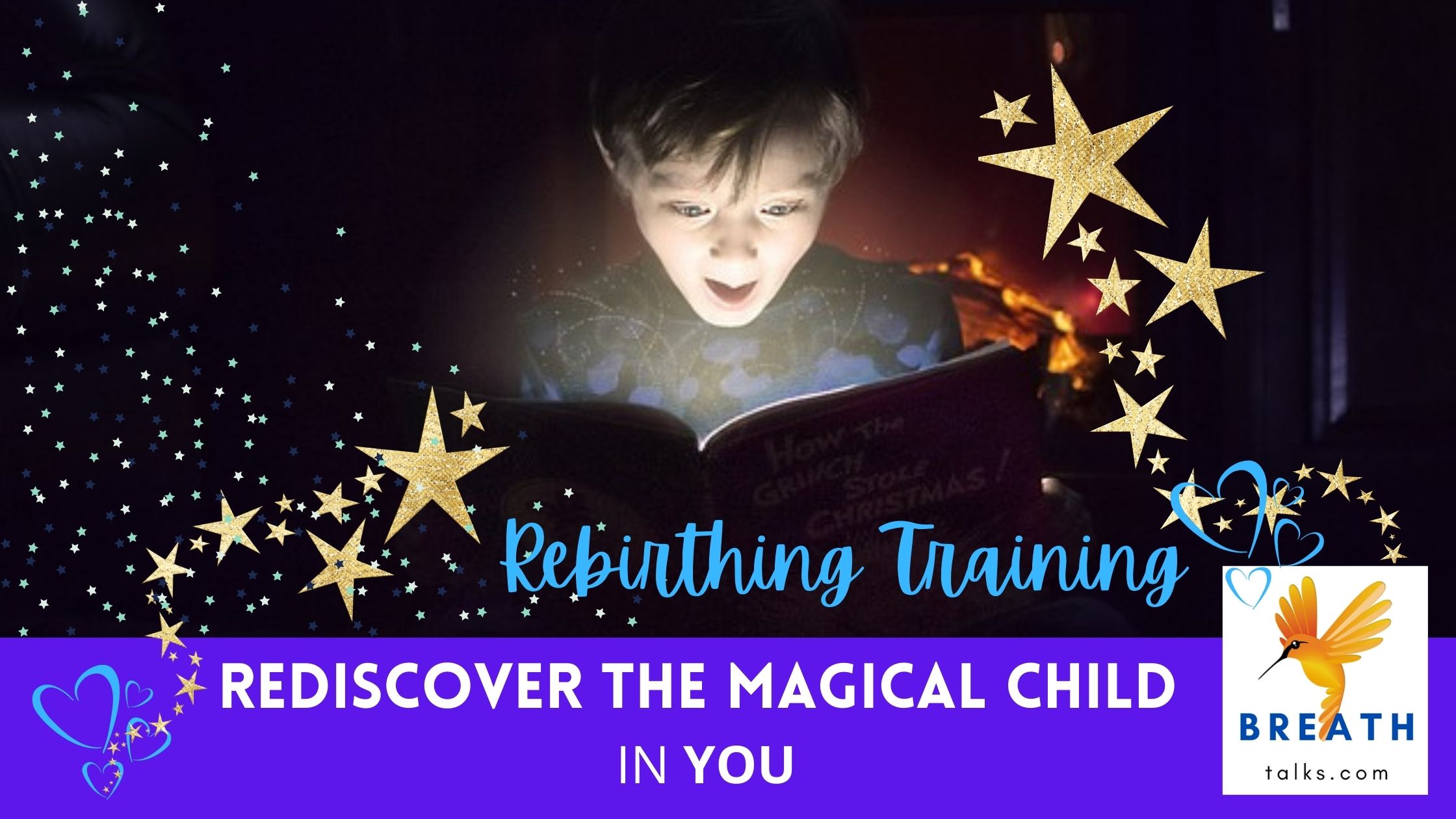 Breathe more FREEDOM into your life:
Unravel your Birth Script
Hold space for people experiencing their first breath
Discover how unmet childhood needs impact us
Be MORE compassionate towards people with different Birth Types
Go through processes during the lectures
Find out why womb time is so important
Are you trapped in reliving Obstetrician Syndrome?
Have you forgiven your Birth Medical team?
Do you get Separation Anxiety?
How breastfeeding and bottle feeding impact you
Please note: your email address will not be kept on file or added to a newsletter
Q&A Information Video About the Training
Your Birth Sets Up Your Life
I am passionate about birth because how we are born is so incredibly important to our life.
For most people it takes time to be ready to deal with our own birth trauma, even for a 'normal' birth.
It is a process not to be rushed and is dependent on how much work you have already done on other various life issues you have discovered.
Unravelling Patrick Collard's Birth Script
In-person in Glastonbury or Hybrid
Hybrid - lectures are online and live and have sessions with a Rebirther near you
Dates Europe Americas 2023
10 September – Module 1.1
24 September – Module 1.2
8 October – Module 2.1
22 October – Module 3.1
5 November – Module 3.2
19 November – Module 4.1
3 December – Module 4.2
10 December – Module 4.3
Dates Australia 2023
11 June – Module 1.1
25 June – Module 1.2
9 July – Module 2.1
23 July – Module 3.1
6 Aug – Module 3.2
20 Aug – Module 4.1
3 Sept – Module 4.2
17 Sept – Module 4.3
| | | | | |
| --- | --- | --- | --- | --- |
| | PT | ET | GMT | CET |
| Daily Practices | | | 8.30am | 9.30am |
| Break | | | 10am | 11am |
| Sessions | | | 10.30am | 11.30am |
| Lecture | 7am | 10am | 2pm | 3pm |
| Break | 10am | 1pm | 5pm | 6pm |
| Daily Practices | 10.30am | 1.30pm | | |
| Break | 12.30pm | 3.30pm | | |
| Sessions | 1-4pm | 4-7pm | | |
| | | | | |
| --- | --- | --- | --- | --- |
| Australia | WA | AET | Gulf  | Europe |
| Sessions TBA |  Weekdays |  Weekdays | Weekdays | Weekdays |
| Lecture |  2.00 pm |  5.00 pm | 10.00am | 8.00am |
| Break |  5.00 pm |  8.00 pm | 1.00pm | 11.00am |
| Daily Practices |  4.15 pm |  6.15 pm | 1.15pm | 11.15am |
| Finish |  6.00 pm |  8.00 pm | 3pm | 1.00pm |
Training Platform: Mighty Networks
Download Mighty Networks App
Join Conscious Hub on Mighty Networks
Module 1
Introduction to Rebirthing

The Mind

Biggies of Human Trauma

Session Demonstration
Module 2
Mind Mastery

The Personal Law

Spiritual Psychology
Module 3
Parental Disapproval

Stages of Development

Inner Infant – Symbiotic Bonding
Module 4
Inner School Age Child

Adolescence
Module 1
Physical Resistance.

Emotional Resistance.

Breathing Deviations.

Energy releases & Energy Cycle
Module 3
Conception, Pregnancy

Birth Types

Mentoring Session: Birth Scripts
Module 4
Inner Toddler – Oppositional Bonding

Inner Pre-schooler

Mentoring Session: Q&A
Module 4
Inner Child Reparenting

Forgiveness

Becoming a Healthy Adult

Inner Child Party

Mentoring Session: Forgiveness
Breathworkers: to be able to attain the required certification to become a Rebirthing Breathworker you need to also complete the following:
Purification with the elements retreat, 2 days
Processing Clients
Theory and practice of Physical Immortality
Past Lives
Prosperity consciousness seminar: the Money Game
Advanced Rebirthing Breathwork techniques
What Students are Saying
About Trainings
Catalina Montes talks about the Rebirther Training
Klodi Gjinaj a training assistant –  talks about the Rebirther Training
Sara Redman talks about the Rebirther Training
Yentl Bruyninckx talks about his experiences of the Professional Rebirther training